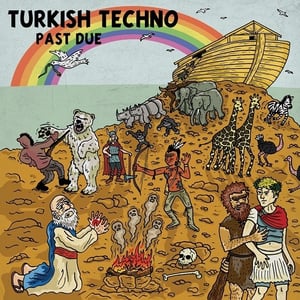 $

9.00
Released 9/6/11
Cover art by Bill Pinkel
160 pink (OOP)
460 orange
5 tests
1. Only Happy in my Dreams
2. Peanuts
3. Where Have You Been?
4. Without You
5. A Letter to Mike XVX
6. Little Lies
7. You Today
8. Breakfast of Champions
9. Search and Roam
10. Broken in Two
11. Someone Send Me a Life Boat
12. Lazy Afternoon
Turkish Techno are a wonderful trainwreck of a band from Riverside, CA. It's truly amazing that they are even still together. Every time I've seen these guys one of them is injured, and one of them is black out drunk, and one of them is about to fight someone. But somehow they've always managed to get up there and tear the roof off of the room. Wait, I haven't seen a single word about the music. Um, do you like Tiltwheel? Do you like Dillinger Four? Of course you do! You've going to love this record.
More than two years in the making and this shitheap of a record is finally seeing the light of day!
Also still available- Turkish Techno/Shang-A-Lang split 7" and Turkish Techno- Demos 2x7"