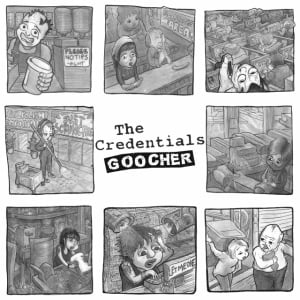 $

10.00
This item will ship May 10!
Cover art by Brian Connolly
1000 copies on black 180 gram vinyl
Tracklist
1. Energy Drinks for the Broken-hearted
2. Impending Swoon
3. I Am Eating My Head
4. Let's Get Arrested Tonight
5. Descending the Garbage Chute
6. Combat Support
7. Footbridge Blues, Pt. II
8. Sex Dream
9. Barren
10. Younger Kids
11. What Are Little Boys Made Of?
12. The Target Demographic Has Had it Up to Here
13. Stealerskeepers
14. I Killed 122 Iraqis and All I Got Was This Lousy Engineering Degree
When I was 13 years old punk rock had a large part in shaping my world view. Bands like Crimpshrine and Propagandhi made me think about where I stood on issues, both political and personal, and made me want to fight for a world worth living in. I often find myself missing that breed of punk rock because it seems like all too often these day punk feels like a frat party; dudes drinking and taking their shirts off while bands play songs about drinking and taking their shirts off. The Credentials sound like they'd be at home in the early nineties bay area punk scene. They play fast, scrappy, "pop punk" with a lot more emphasis on punk than pop. This is a great LP and it looks amazing too! It's on 180 gram vinyl and comes with a 20 page zine. This is easily the most elaborate record we've put out to date.
Split release with Dirt Cult, It's Alive, 86'd, and the band!