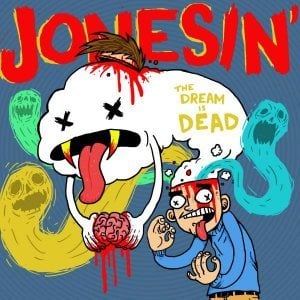 $

4.00
Released 9/6/2010
Co-release with
Dirt Cult Records
Traffic Street Records
No Breaks Records
Cover art by Lubrano.
100 opaque blue (MAR exclusive)
100 yellow (Dirt Cult exclusive)
100 green (No Breaks exclusive)
100 pink (Traffic Street exclusive)
100 red (Jonesin' exclusive)
5 tests
Tracklist
1. 'Lone
2. Nothing At All
3. Just So You Know
4. (Take Me to the) Antique Roadshow
As Jonesin' wrapped up their debut EP late last year, something happened that made their label lose interest: they announced that their show at The Fest in Gainesville would be their last. They were calling it quits. Luckily, Chris (Dirt Cult), Sam (Traffic Street), Stewart (No Breaks), and I all have the kind of terrific business sense that would compel a person to plead with a defunct non-touring band to get to put out their record. Rather than choose one of us – well – connect the dots, Einstein. It's a four-way split release!
So here it is – the swan song EP from Long Island's best East Bay-spirited band. Four songs of gravelly Green Day and Crimpshrine influenced pop punk -aptly titled The Dream is Dead.
Except for one thing: they reconsidered and decided not to break up after all!